DWP Global Summit 2023 – Programa do Palco Startup Portugal
startups
DWP Global Summit 2023 – Programa do Palco Startup Portugal
O Digital With Purpose (DWP) Global Summit é um evento de destaque para líderes no mundo digital, que irá reunir decisores dos setores público e privado, com o objetivo de impulsionar a utilização e a implementação de inovações digitais que tenham um impacto positivo na sociedade. Nos dias 27,…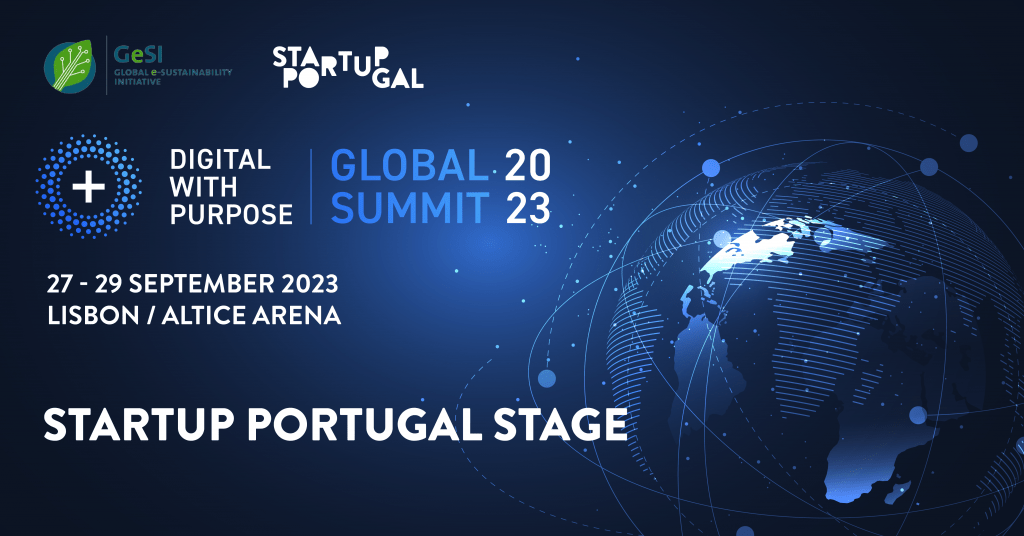 O Digital With Purpose (DWP) Global Summit é um evento de destaque para líderes no mundo digital, que irá reunir decisores dos setores público e privado, com o objetivo de impulsionar a utilização e a implementação de inovações digitais que tenham um impacto positivo na sociedade.
Nos dias 27, 28 e 29 de setembro, a Global Enabling Sustainability Initiative (GeSI) tem o prazer de acolher o 2º Digital with Purpose (DWP) Global Summit no Altice Arena em Lisboa, Portugal.
O Digital With Purpose Global Summit tem como objetivo colocar a inovação e as soluções digitais no centro da agenda da sustentabilidade, e a sustentabilidade no centro da agenda digital. Existem provas suficientes de que o digital é a chave para enfrentar os desafios mais prementes da sustentabilidade e para capacitar os líderes mundiais na construção de um futuro mais sustentável.
A Startup Portugal participa no evento através da organização de uma programação que reúne alguns dos intervenientes do ecossistema empreendedor português que estão a responder ativamente aos desafios apresentados por esta cimeira.
Palco Startup Portugal
A par da agenda principal do evento, a Startup Portugal apresentará um palco com conteúdos próprios e diferenciadores, incluindo fireside chats e keynote speakers do ecossistema empreendedor.
A Startup Portugal também te proporciona um código para obteres o teu bilhete a um preço especial: START!23DWP
Vê aqui o programa do Palco Startup Portugal:
27 Setembro
14h30 – Fireside Chat: How can Startups accelerate a sustainable economy
com António Dias Martins, Executive Director – Startup Portugal;
e Luís Neves, CEO – GeSI
15:00 – Sustainable Ocean, Digital Soulutions
com Ana Costa, Sustainability & Blue Economy Diretor – Beta-i;
Tanya Silveira, Senior Technician – IPMA;
Nuno Lourenço, President – CoLab +Atlantic;
Eduardo Silva, TEC4SEA Strategy Coordinator – INESC TEC;
e a moderação de Rúben Eiras, Secretary General – Fórum Oceano
15h30 – Goparity: a startup business case
com Rita Oliveira, CMO – Goparity
16h00 – How to create 3000 Digital Enabled Green Startups in Portugal
com João Kuchembuck, Head of Investments and Subsidies – Startup Portugal
16h30 – GovWise: a startup business case
com Francisco Figueiredo, Co-founder and CEO – GovWise
17h00 – Faber Blue Pioneers: investing in climate impact and SDGs
com Rita Sousa, Partner – Faber Ocean / Climate Tech
17h30 – ESNA and Europe Leading the Way for Green & Digital Startups
com Inês Magriço, Finance Director – Europe Startup Nations Alliance (ESNA)
28 Setembro
10h00 – Funding Green Projects
com Stephan Morais, Co-Founder and Managing General Partner – Indico Capital Partners
10h30 – Pitch Session 1
11h30 – GED Ventures: The ESG ethos in investment
com João Pedro Silva, Investment Manager – GED Ventures
12h00 –  Pitch Session 2
14h00 – MAZE impact: Delivering positive social and environmental outcomes
com Rita Casimiro, Partner – MAZE Impact
14h30 – Pitch Session 3
15h30 – Empowering Sustainability Startups: UNION Venture Builders Bridging Strategic Investments
com Carlos Mendes, Managing Partner – UNION Venture Builders
16h00 – Pitch Session 4
17h00 – Galp Upcoming Energies
com Ana Casaca, Global Head of Innovation – Galp
17h30 – Pitch competition finalists announcement & closing
com António Dias Martins, Executive Director – Startup Portugal
29 Setembro
10h30 – How does Innovation enable sustainability and take Startups to a Global Stage?
com António Dias Martins, Executive Director – Startup Portugal;
Filipe Costa, Chairman and CEO – AICEP;
e António Grilo, President – ANI
11h30 – Fostering Social Impact with Digital Solutions
com Inês Jardim Sequeira, Founder and CEO – Casa do Impacto
12h00 – Pitch Competition Final 
14h00 – BlueBio Alliance: Promoting entrepreneurship in blue biotech
com Ana B. Assis, Media & Communication Manager – BlueBio Alliance
14h30 – Envisioning a Net Zero Europe
com João Kuchembuck, Head of Investments & Subsidies – Startup Portugal;
Tereza Fiuza, Executive Vice President – Portugal Ventures
15h30 – Accelerating Inclusion and Diversity through tech-enabled startups
com Fernando Cabral, Chief Venture Growth – Djassi Africa
16h00 – Encerramento: Shaping Portugal's Entrepreneurial Vision
com António Dias Martins, Executive Director – Startup Portugal
startup
startup portugal
sustentabilidade
conferência
digital