22 Startups are part of the Portuguese Delegation at the South Summit (Madrid)
Startups
22 Startups are part of the Portuguese Delegation at the South Summit (Madrid)
We can't wait to accompany the Portuguese delegation that will travel to Spain to participate in the South Summit. Here you can meet the 22 participating startups. From the 7th to the 9th of June 2023, another edition of the South Summit will take place, one of the biggest events…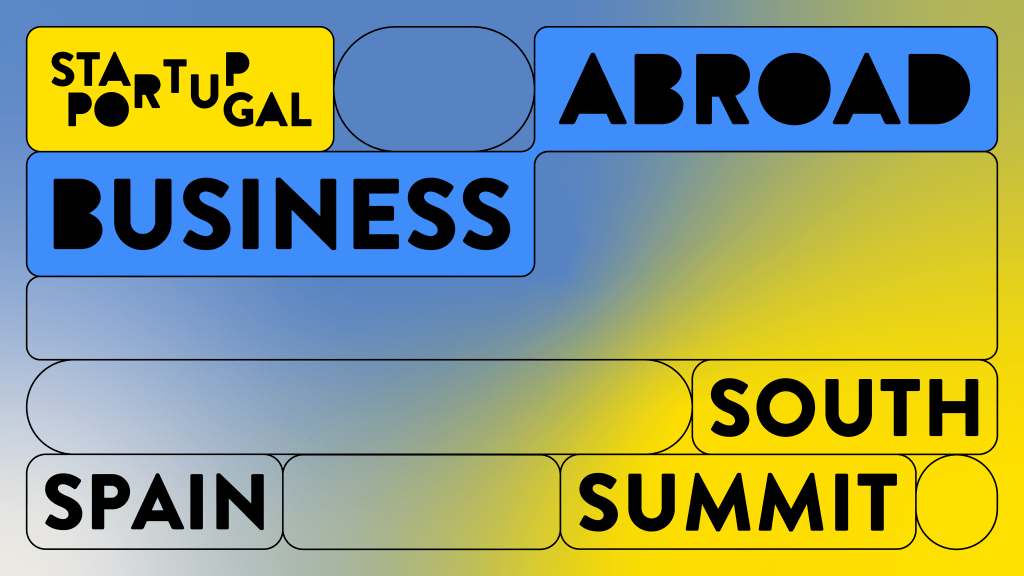 We can't wait to accompany the Portuguese delegation that will travel to Spain to participate in the South Summit. Here you can meet the 22 participating startups.
From the 7th to the 9th of June 2023, another edition of the South Summit will take place, one of the biggest events in southern Europe that brings together entrepreneurs, investors, startups and companies. This event has already become a global reference for attracting talent and generating business opportunities in the entrepreneurial ecosystem.
The 16 startups that make up the Portuguese delegation will have the opportunity to present their solutions in the exhibition area, access local players and stakeholders in the ecosystem, and expose their brand on the communication channels of the initiative's partners and conference.
Get to know the Portuguese startups that will be at the South Summit here:
Biometrid – A no-code graphic builder for all customer journeys.
Dimmersions – We firmly believe in the power of XR and  AÍ. Our main focus is in the development of WebXR B2C and B2B solutions, creating great VR/ AR experiences along the industries, building digital twins and virtual worlds, and owning Metaverse-first IP's, like MADALIA, the first Metaverse virtual World recognized by a government, worldwide.
Doctor Vida – Pocket PCR is the smallest portable PCR equipment in the world currently available on the market for diagnosing Legionella, Lactose Intolerance, Covid-19, and other diseases, including veterinary use. It is CE-IVD and ISO 13485 certified and manufactured by STAB VIDA. It offers a single and complete testing cycle, including sample collection kit, reagents for DNA/RNA detection and isothermal amplification, a portable device, and an app that generates the final diagnostic report in less than 1 hour.
Dream Shaper – Online Project-Based Learning tool that guides students through practical and engaging learning experiences. When building projects, students learn autonomously and as protagonists, but with full support and guidance from their teachers.
Enline – They offer a wide range of products and services for energy markets, industries and infrastructure, aiming to increase the efficiency and reliability of energy systems and integrate renewable sources.
FootAR – Revolutionizing sports fan engagement through gamified and interactive live data.
Goparity – Impact investing and finance app that empowers people and businesses to actively contribute to the United Nations' Sustainable Development Goals.
Govwize – Focused on data, it harnesses the power of artificial intelligence to revolutionize the way public procurement is done. By providing both buyers and sellers with advanced tools and insights, GovWise helps streamline the contracting process, saving time and resources while increasing efficiency. Whether it's a government entity looking to purchase goods and services or a supplier looking to sell to the public sector, GovWise has the experience and technology to help them succeed.
Leadzai – Customer acquisition platform that empowers businesses to grow online. They believe that the digital advertising market is failing to help companies ensure a satisfactory return on their advertising investments, so this startup's mission is to enable businesses to thrive effortlessly.
Luggit – Provides the collection, storage and delivery of luggage at the desired place and time.
Neural solar – Company with a DNA of innovation in the field of electronics, specializing in the development and design of patentable devices for monitoring and detecting patterns in equipment for producing electricity using solar energy and solutions for monitoring large areas with reduced need for infrastructure, such as, for example, monitoring pollution or illegal activities in the ocean or monitoring forest fires.
Preflet – It empowers organizations to extract value from building energy data and realize their full potential.
Moviinn – A relocation and integration service for expats moving to Portugal. Whether you need help with taxes, visa applications or simply getting to know which cities might fit you and your family best, their team is here for you.
UZME – They develop innovative products capable of preserving or changing the temperature of food and beverages, with particular focus on autonomous energy sources, that is, those that do not need to be connected to the electrical grid to function.
XpectralTEK – Using the latest in computer vision technology and optical instrumentation, betting on a light, modern and practical design, XpetralTek products meet the individual needs of the customer, aiming at dedicated solutions.
X-Plora – A Platform with contextualized XR (AR/VR), Gamification and NFTs for improving visitor experience of a Museum, a City, a Stadium, a Venue or even a Store.
Follow the initiatives and activities of the Portuguese delegation in Madrid through Startup Portugal's social networks!
Download the delegation's booklet here.
Additionally, 6 more startups have joined the delegation, bringing the total number of Portuguese startups represented at the 2023 edition of the South Summit to 22. Here they are:
Hunter – It is a luxury urban tech company currently focused on designing, developing, and selling premium micro-mobility vehicles tied to recurring revenue.
Invisible Collector – It is an automatic SaaS that utilizes Artificial Intelligence and Machine Learning algorithms to analyze debt portfolios and execute the most effective collection strategy through the best available notification channels at any given time.
Lever.Tax – It helps innovative companies benefit from tax credits by simplifying, accelerating, and cutting application costs through AI.
Networkme – The platform that assists young individuals in discovering their career path and aids companies in recruiting young talento.
Pleez – Pleez offers an algorithm that provides menu and competition analysis to improve and optimize the restaurant's menu
Purrmi – A personalized 100% natural cat food delivery algorithm, without any additives or preservatives.
startup
entrepreneurship
investment
internationalization
conference