Web Summit 2020 starts today: what can you expect?
Startups
Web Summit 2020 starts today: what can you expect?
This year, the largest conference on technology and innovation in the world will be completely online. Find out how it will work, some tips and tricks and what not to miss.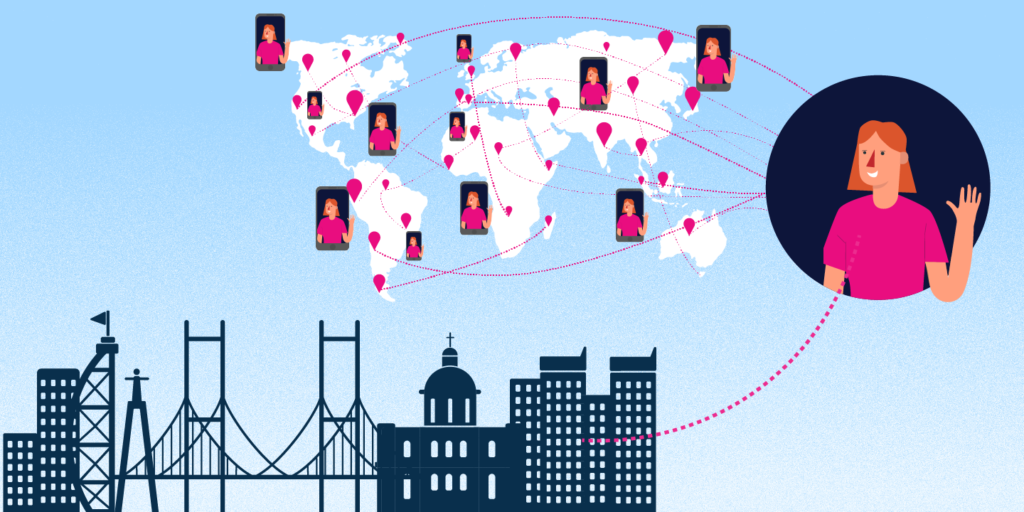 This post is part of a collaborative effort between Startup Portugal, The Next Big Idea, and Sapo24, meant to create relevant content to tackle the COVID-19 pandemic.
Content available in Portuguese.
---
The pandemic brought a new challenge to the event that has been taken place in Lisbon since 2015. If until now the difficulties were mainly to have the logistics and technology necessary to receive 70 thousand visitors, this year the challenge was to keep the event in full pandemic and, consequently, in safety. Therefore, the 2nd, 3rd and 4th of December will bring a different Web Summit, with all its activities such as lectures, workshops, networking, among other things, to be carried out completely online.
How it works?
For this new format, Web Summit, which this year has more than 100 thousand participants and 800 speakers, created a two-screen experience. Thus, each participant will have access to two applications, one for the mobile phone, the other for the web browser (computer). You'll the mobile app to access the web app.
The goal is to attend lectures or one of the many other activities on one screen, the computer, while it is possible to connect with other people or entities, consult the calendar or search for contacts, on the other screen, the mobile phone .
The organization sought to replicate part of the experience that the physical event provides by creating new features such as the possibility of commenting on what is being seen and, thus, starting discussions that, in turn, can give rise to new contacts.
Additionally, the web browser application algorithm will make it possible to bring together two people who showl the same interests and have them chat for three minutes, using a feature called Mingle. After these three minutes, the algorithm will find another person for another three minutes of conversation and so on.
Also new is the fact that it is still possible to "visit" the spaces of the various companies present and even talk to members of their teams (online, of course).
What to attend?
In previous years, the physical event took place at FIL and Pavilhão Atlântico in Lisbon and the space was divided by theme. Likewise, the online event will have 5 channels. Each channel will have lectures, workshops, question and answer sessions, pitch, fireside talks (informal conversations with two to three people). What can you count on on each channel?
Here are some suggestions:
Channel 1 – Centre
This is considered the central channel of the event's programming and proposes a mix of conferences and lectures on how various industries can be impacted by technology. Specialists in medicine, advertising, politics, entertainment, among others, will talk about how technology will define the world for future generations.
In addition, the opening ceremony will take place at 12 noon, started by the founder and CEO Paddy Cosgrave, and followed by the Prime Minister, António Costa and the Mayor of Lisbon, Fernando Medina.
On the same day at 12.10 pm, the current President of the European Commission, Ursula von der Leyen, has of Europe will disclose her vision of Europe. The next day, December 3, at 4:50 pm there will be the possibility to listen to Renata Quintini, from Renegade Partners, and Tim Draper, from Draper Associates, representatives of two of the largest venture capital companies in the world. They will talk about where investors are investing in a period like the one we're going through.
Furthermore well-known names from the general public will also pass through this channel, such as director Ridley Scott (who directed films such as Blade Runner, Alien or Gladiator), Aaron Paul and Bryan Cranston (actors who starred in the series " Breaking Bad "and who created a mezcal brand) or actress Gwyneth Paltrow, founder of the lifestyle Goop brand.
Channel 2 – Creators
This channel will receive creative minds from around the world and linked to different areas, who will discuss and present ways to protect or boost creativity in a world increasingly defined by technology. So, among other things, we can hear Scott Belsky, Chief Product Officer at Adobe talking about creativity as the real capital in the age of remote work (December 2, 5:50 pm) or Tottenham footballer Eric Dier, known for his skills on the pitch, showing his competencies in another Pitch with its new Spotlas startup (2 December, 7.40pm).
Another of the main points of interest will be the coach José Mourinho, who will receive the prize for innovation in Sports on this channel on December 3, at 3pm.
Channel 3 – Society
In the channel dedicated to the emerging topics of today's society, leaders and policy makers from around the world speak of the atypical year that we live in. How can technology help to overcome the many challenges facing today?
As an example, on this channel it will be possible to hear the Mayor of Lisbon, Fernando Medina, on how to make cities healthier, more sustainable and more colorful (3 December, 14h35); or attend a conference on how small businesses can keep in business (December 4, 4:00 pm), with company founder and CEO Melio, a company that offers a billing and treasury management tool targeted at small businesses.
We will also have Ruth Andrade, Lush's Sustainability Director, talking to Brian Collins (Founder and Chief Creative Officer of Collins) and Pia Heidenmark Cook, Ikea's Chief Sustainability Officer, talking about the need to rebrand sustainability.
Channel 4 – Builders
This will be a channel that will bring together developers, data scientists, founders and global CEOs for conversations about the future of technology and business.
Here it will be possible to know how DJ David Guetta coped during the pandemic (2 December, 3:45 pm) or the CEO of the startup Freshworks, about how to become a unicorn (December 2 at 8:05 pm).
Chanel 5 – Portugal
This year, the Web Summit will have a channel dedicated to the main Portuguese voices in various sectors of activity and that will speak of Portugal's role in the global technology community.
Thus, we will be able to watch the conversation between Stephan Morais, investor and general director of Indico Capital Partners (one of the largest Portuguese venture capital companies), Sofia Santos, Partner at Faber (another of the largest venture capital companies in Portugal) and the reporter Diogo Ferreira Nunes, on the type of businesses and industries that will be most likely to succeed in seeking investment in 2021 (December 2, 3:25 pm).
It will take place in this channel the announcement of the winners of theAI Moonshot Challenge, a contest that seeks disruptive ideas that combine satellite data and Artificial Intelligence to allow the detection of plastic in the Oceans (3 December, 17h00). On the last day (December 4), we will also have theMinister of Economy, Siza Vieira (2:00 pm), the soccer playerRicardo Quaresma(2:10 pm), the director of Startup Portugal,João Borga (4:50 pm) and the Secretary of State for Tourism, Rita Marques (5.25pm).