Why we need more women in technology?
Startups
Why we need more women in technology?
Now that universities are open for applications, it is the right time for young students to think about a career in technological areas, as gender disparities still persist. But what limits the interest of women in these fields?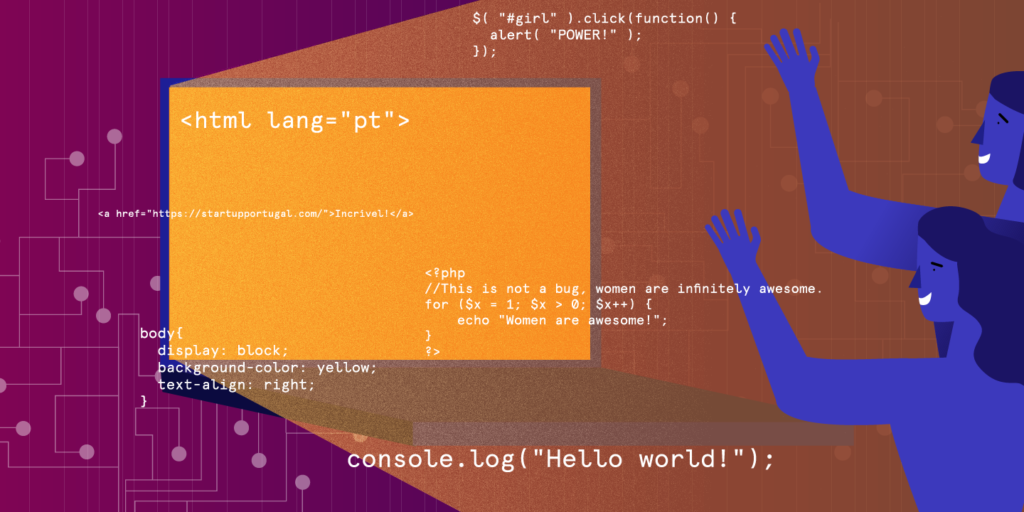 This post is part of a collaborative effort between Startup Portugal, The Next Big Idea, and Sapo24, meant to create relevant content to tackle the COVID-19 pandemic.
Content available in Portuguese.
---
Now that universities are open for applications, it is the right time for young students to think about a career in technological areas, as gender disparities still persist. But what limits the interest of women in these fields?
Many things limit the interest of girls and women in technological areas that condition their career choices – prejudices, social norms, pre-established expectations, and social pressure. All of this means that women are particularly underrepresented in the teaching of STEM (Science, Technology, Engineering, and Mathematics) subjects and, consequently, in careers in these areas. However, despite the obstacles imposed on young women in the scientific and technological world, there are many advantages to pursuing a career in STEM areas.
The most immediate advantage is the growing demand for qualified professionals in a market where they are lacking. Due to digitalization and the growing number of startups and technology companies in the national territory, the demand for qualified professionals in STEM areas has skyrocketed. Portugal even has programs especially designed to attract foreign talent like the Tech Visa.
According to the research "Combater a falta de talento especializado em IT" by Robert Walters, a recruitment consultant, 8 out of 10 companies face difficulties in finding specialized technological talent. In addition, the Information Technologies job offer increases by an average of 38% each semester. Thus, it is unlikely that a young woman who recently graduated in a STEM area will not find work.
Besides the high demand for professionals, salaries are also a decisive factor when choosing these careers. The salaries for IT professionals are the ones that have increased the most in Portugal and these are currently the highest-paid areas. These professionals are the most difficult to hire and often have more than one offer to choose from due to the shortage of professionals in the Portuguese market, according to the study Salary Survey 2020 by Roger Walters.
As stated in this study, the field of IT is the one that will grow the most in 2020 in terms of employability. Telecommunications, computer software, internet, and human resources are also expected to grow this year. This indicates that some professions in the fields of data and analytics, security, and web development will receive the most significant salary increases. For example, the salary of a data scientist, who earns between 50,000 and 60,000 euros a year, may increase to 70,000 euros this year.
In addition to the advantages mentioned above, there are several projects in Portugal that can encourage and support more young girls to study and work in the STEM areas. From She Codes, a code academy just for women, to Girls in Tech, an initiative that promotes the interaction between high school students and college students in STEM areas. There is also Portuguese Women in Tech, a community that presents Portuguese women who are improving the technological industry and seeks to reinforce the image that there is also room for them in the technological and entrepreneurial world.
Portugal was ranked in the Mastercard Index of Women Entrepreneurs 2019 as the 10th country with the highest percentage of women entrepreneurs with 30.2%. According to Ana Xavier, investment manager at Portugal Ventures, a company focused on investments in technology, tourism, and life sciences, it is important to "show women's success stories and promote positive models". We have loads of female talent in Portugal, and there are many examples of women who have built successful careers in STEM areas. These are some of the women who have excelled in the Portuguese entrepreneurial sector for their innovative creations.
Daniela Braga
In 2015, Daniela Braga founded in Seattle, United States, DefinedCrowd, a startup specialized in data collection, enrichment, processing and transformation for Artificial Intelligence and Machine Learning systems. Recently, the company was considered one of the 100 best and most promising artificial intelligence companies in the world, according to the annual ranking of the consultant CB Insights. Microsoft, Google, Sony, IBM, and Mastercard are just a few of its customers.
The 41 year old founder has a degree in Modern Languages and Literature from the University of Porto but decided to solidify her path with a master's degree in Applied Linguistics and a doctorate in Discourse Technology. She did research, taught, and worked at Microsoft in the United States until she founded DefinedCrowd.
Carolina Amorim
Carolina Amorim is the co-founder and CEO of EmotAI, a startup that aims to improve human performance through neurotechnology. In this project, she and her team developed a wearable band to record brain waves and heart rhythm of professional eSports players.
Before founding EmotAI, Carolina obtained a master's degree in Biomedical Engineering from NOVA University of Lisbon and was a researcher in physiological computing. While at university, she led a startup based on paper biosensors to detect contaminants in water that captured UNICEF's attention. In 2019, she won the "founder" award of the Portuguese Women in Tech community.
Cristina Fonseca 
With a degree in Engineering from the Instituto Superior Técnico of the University of Lisbon, Cristina Fonseca is the co-founder of Talkdesk, a company that offers innovative solutions to create a call center on the internet. It was the third Portuguese company to be classified as a unicorn [company valued at more than $ 1 billion].
In 2016, the year she left the company, she joined the European list "30 under 30" from Forbes. In early 2019, she became an investor in Índico Capital Partners, the largest private venture capital fund in Portugal. This year, Cristina Fonseca is among the 50 most influential women in tech in Europe, according to EU-Startups.
Daniela Seixas
Daniela is a neuroradiologist, and is an affiliated professor at the Faculty of Medicine of the University of Porto, as well as a member of the National Commission for Health Informatics Technologies of the Ordem dos Médicos. In addition to having a Ph.D. in neuroscience, she co-founded in 2016 a digital health startup named Tonic App. Tonic App connects doctors and provides useful digital tools for clinical work, and is currently available in Spain, France, and the United Kingdom.
Startups
startup
entrepreneurship
entrepreneur
startup portugal
WIT
PWIT
women in tech
Portugal Women in Tech
girls in tech
she codes
tech visa