Digital With Purpose Global Summit 2023
Startups
Digital With Purpose Global Summit 2023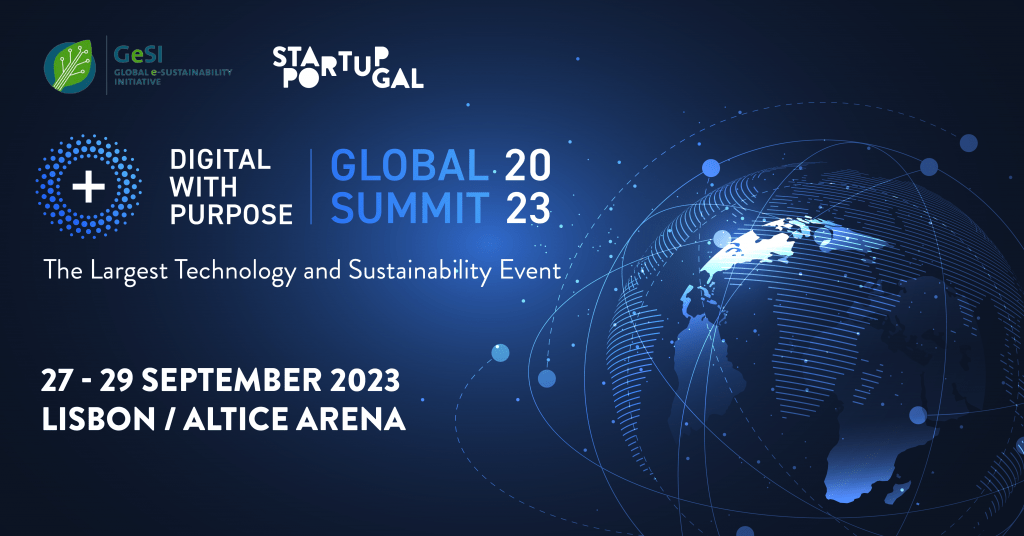 The Digital with Purpose (DWP) Global Summit is a flagship event for digital leaders that will convene public and private sector decision makers to accelerate the use and uptake of digital innovations that benefit society.
On 27, 28 and 29 September, the Global Enabling Sustainability Initiative (GeSI) will proudly host the 2nd Digital with Purpose (DWP) Global Summit at the Altice Arena in Lisbon, Portugal.
The Digital With Purpose Global Summit aims to put innovation and digital solutions at the core of the sustainability agenda, and sustainability at the core of the digital agenda. We have enough evidence that digital is the key to address the most pressing sustainability challenges and to empower worldwide leaders in building a more sustainable future.
Startup Portugal participates in the event by organizing an agenda that brings together stakeholders from the Portuguese entrepreneurial ecosystem who are actively addressing the challenges presented by the Summit.
Pitch Competition
Startup Portugal, in partnership with GeSI, is organizing a Pitch Competition that spotlights projects at the intersection of sustainability and digital innovation. Here's more about it:
– Objective: The Pitch Competition aims to recognize and support innovative projects that harness digital technologies to address sustainability challenges. It serves as a platform for startups and entrepreneurs to showcase their ideas and receive recognition for their efforts
– Participant Selection: The competition invites submissions from projects that align with the summit's theme of digital solutions for sustainability. A panel of judges selects the top 20 projects from the submitted entries.
– On-Stage Presentation: The chosen 20 projects will have the opportunity to present their ideas on Startup Portugal's stage during the event. These presentations could include pitches, demonstrations, or discussions on how their projects contribute to a more sustainable future.
– Prize: The final winner of the Pitch Competition will receive a monetary award of €5,000. This prize is intended to help advance the development and implementation of the winning project, providing valuable support to further its sustainability objectives.
Deadline: Applications must be submittedby September 8th.
Startup Portugal Stage
Alongside the event's main agenda, Startup Portugal will be hosting a stage with its own distinctive content, including fireside chats and keynote speakers from the entrepreneurial community. Here's what you can expect from the Startup Portugal Stage:
– Distinctive Content: The Startup Portugal Stage offers a unique lineup of content that includes fireside chats and keynote speakers. These sessions are designed to provide insights and inspiration to attendees, particularly from the entrepreneurial community.
– Fireside Chats: Fireside chats are informal, engaging discussions typically involving leaders and experts. These conversations can delve into topics such as entrepreneurship, sustainability, and the role of digital technologies in driving positive change.
– Keynote Speakers: Keynote speakers are influential figures who share their expertise and vision with the audience. They may discuss trends, opportunities, and challenges in the startup ecosystem and how it intersects with sustainability and digital innovation.
– Networking: The stage also serves as a networking hub where participants can connect with fellow entrepreneurs, investors, and thought leaders. It provides an opportunity to build valuable connections and partnerships.
Agenda available here: Startup Portugal Stage agenda!
Startup Portugal also provides you with a code to redeem your entry for a special price: START!23DWP