Ecosystems: The Secret Sauce of FinTech Innovation by Mariana Gorjão Henriques
Startups
Ecosystems: The Secret Sauce of FinTech Innovation by Mariana Gorjão Henriques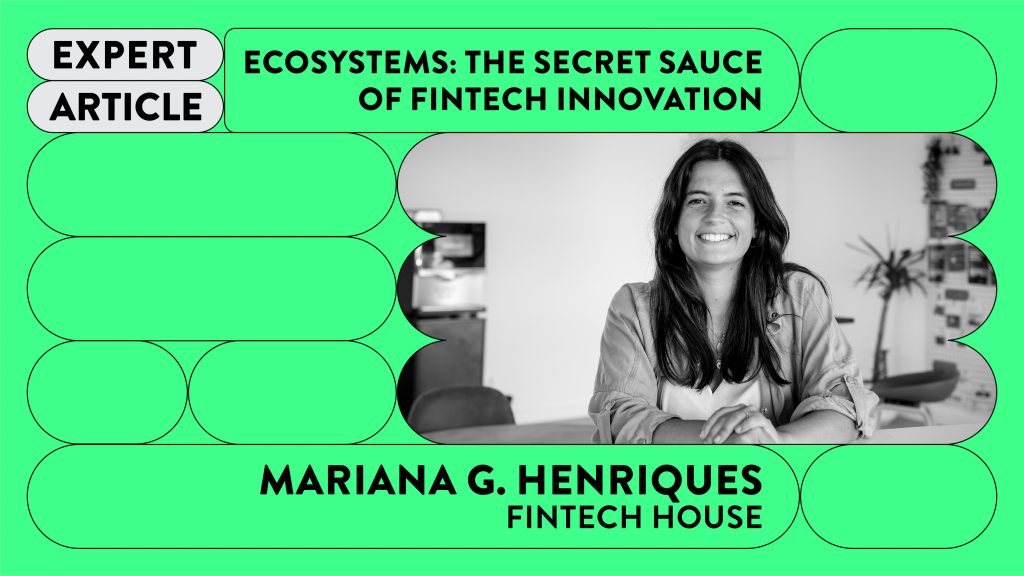 Ecosystems: The Secret Sauce of FinTech Innovation
Written by Mariana Gorjão Henriques, Head of the Fintech House
Ecosystems traditionally describe a community of interdependent organisms and their surroundings. In FinTech, an ecosystem represents a complex network of interconnected businesses, platforms, consumers, and technologies that collectively contribute to the delivery and consumption of financial services. The significance of these ecosystems in the FinTech sector cannot be overstated.
Let's delve into their importance with insights from Portugal.
1. Ecosystems Foster Collaboration & Rapid Innovation
In the fragmented world of financial services, collaboration is key. Many FinTech startups do not necessarily want to replace traditional banks but rather seek to collaborate, offering specialized services that banks may not provide. For instance, the Portugal Fintech Report of 2022 showcases collaborations like LOQR's digital onboarding for Credibom and Banco Português de Gestão. Meanwhile, Visor.ai developed a chatbot for Fidelidade's Facebook Messenger to address the most frequently asked questions.
2. Ecosystems drive partnerships to offer the best experience
One of the main goals of FinTech is to offer a better customer experience compared to traditional financial services. By working within an ecosystem, FinTech companies can offer a seamless and integrated experience to their users. For instance, Rauva, headquartered in Portugal, serves SME entrepreneurs across Europe's Mediterranean area. The app facilitates several business processes, from opening an account to managing expenses, all within a single ecosystem.
3. Ecosystems enable regulatory flexibility
An ecosystem of FinTech entrepreneurs and experts provides a deep well of knowledge about complex financial regulations. The Portugal Finlab exemplifies this. The Portugal Finlab is a communication channel between innovators – new players in the market or incumbent institutions having innovative tech-based financial projects or products – and the Portuguese regulatory authorities. Through it, the Authorities provide guidelines to the Participants on how to navigate and operate in the regulatory system.
The purpose of the Portugal Finlab is to support the development of innovative solutions in FinTech and related areas through cooperation and mutual understanding.
4. Ecosystems encourage knowledge dissemination 
An entrepreneur's challenge has been most of the time faced by other entrepreneurs. By bringing everyone together within the same ecosystem, they can benefit from shared wisdom and experiences.
The Fintech House: Building this Vision of an Ecosystem
The Fintech House is a joint venture between Portugal Fintech and sitio, representing more than just a physical space. Spanning 2400 square meters over 10 floors, it's not only a co-working area but an ecosystem for FinTech, Regtech, Insurtech, Cybersecurity, and DeFi companies. This hub bridges innovators with regulators, consultants, and financial institutions. Furthermore, the Fintech House offers comprehensive support, from capital access to networking with established entities.
The future of FinTech looks promising. The potential of this domain becomes more evident when like-minded entrepreneurs collaborate. Places like the Fintech House highlight the benefits of verticalized innovation.
As FinTech continues to evolve, such cohesive ecosystems will play an increasingly important role.