Green Tech revolution in the Industry Sector, by Maik Reder
Startups
Green Tech revolution in the Industry Sector, by Maik Reder
Green Tech revolution in the Industry Sector Written by Maik Reder, Founder & CEO of ANNEA ANNEA is a German-Portuguese Green Tech company founded in 2019. Our focus is to provide a predictive asset optimization platform that enables renewable energy producers to significantly reduce their operating…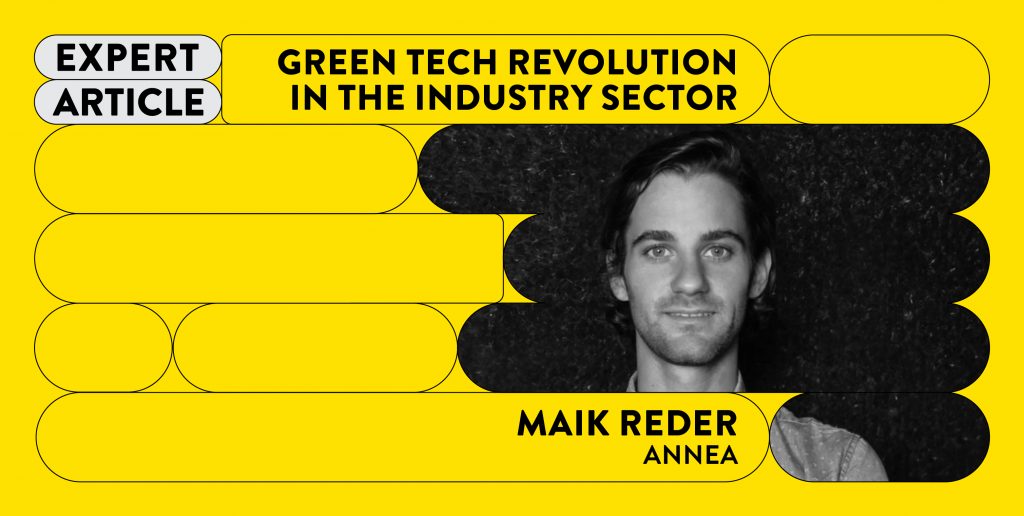 Green Tech revolution in the Industry Sector
Written by Maik Reder, Founder & CEO of ANNEA
ANNEA is a German-Portuguese Green Tech company founded in 2019. Our focus is to provide a predictive asset optimization platform that enables renewable energy producers to significantly reduce their operating expenses (OpEx), while simultaneously increasing energy production and revenue. Our vision is to save resources for a more sustainable planet, and our mission is to leverage digital twins to achieve a significant reduction of 700 million tonnes of CO2 equivalent emissions per year from renewable energy production. Currently, we are operating in 16 countries with several contracted clients, and we have a potential for upscaling to 42GW under management and 451GW in scope. Our sales representatives are contracted globally, further expanding our reach and impact.
As a growing company, there are always numerous areas that can be improved. However, to prevent feeling overwhelmed by an extensive to-do list, we adopt a strategic approach by setting a business-wide focus on a select few key areas for the year. This year, we will prioritize and invest our efforts in product enhancements, scalability, language support, and integration with other renewable energy sectors. By focusing on these areas of improvement we wish to deliver even more value to our customers and begin to establish ANNEA as a leading solution in the renewable energy domain.
This approach has yielded remarkable results, and at ANNEA, we believe in celebrating the hard work and dedication of our team, regardless of the size of the accomplishment. Achievements such as the launch of our product a few years ago, securing our very first client just a few months later, winning prizes at several innovation challenges, as well as completing our first venture capital round are only a few to highlight. Success is a culmination of big and small achievements, and we are committed to celebrate the efforts of our team every step of the way.
Success often brings its own set of challenges, and balancing growth, hiring and retaining talent, all while expanding operations and continuously improving our complex product, are among the most significant ones we have faced so far. Additionally, as is common for most startups, we have faced challenges related to resource constraints, while also navigating the competition posed by established players in the renewable energy sector.
Renewable energy sources, while gaining momentum, still face cost challenges in order to be competitive. Up to 30% of the overall lifetime costs are attributed to Operations and Maintenance (O&M) expenses. Also, the health status of wind turbines is often uncertain, with a significant portion of downtime being unplanned and suboptimal settings persisting for as much as 30% of the time, leading to profit losses. ANNEA is the only company in the market currently tackling all these problems with an all-in-one platform. Our unique offering includes failure predictions at the component level with a remarkable 99.9% accuracy, extending up to 12 months in advance, all without the need for additional hardware. What sets us apart is combining domain knowledge in the renewable energy industry, engineering expertise, and advanced predictive maintenance modeling techniques.
It's been amazing to see how Portugal has made all this possible, and navigating the world of Industrial Innovation here has been an exciting journey. The ecosystem is vibrant, with numerous opportunities for collaboration, access to funding, and support from government initiatives. We have been able to connect with like-minded innovators and build valuable partnerships.
Industrial innovation is currently experiencing significant growth and transformation. Advances in artificial intelligence, machine learning, robotics, and IoT, are driving automation, optimization, and efficiency in industrial processes. The future of industrial innovation looks promising, and with a growing focus on sustainability, we believe there will be an increasing adoption of green tech solutions as companies strive to address environmental concerns and achieve sustainability goals. Collaboration and partnerships between industries, academia, and governments will likely play a crucial role in driving industrial innovation forward.
startup
techonology
sustainability
renewable energies