In expansion we trust, written by Miguel Santo Amaro
Startups
In expansion we trust, written by Miguel Santo Amaro
In expansion we trust Why should your startup expand globally? Because if it does, you – we – will expand too. Written by Miguel Santo Amaro, co-founder and CEO at Coverflex Two years later and it's still hard to look back on…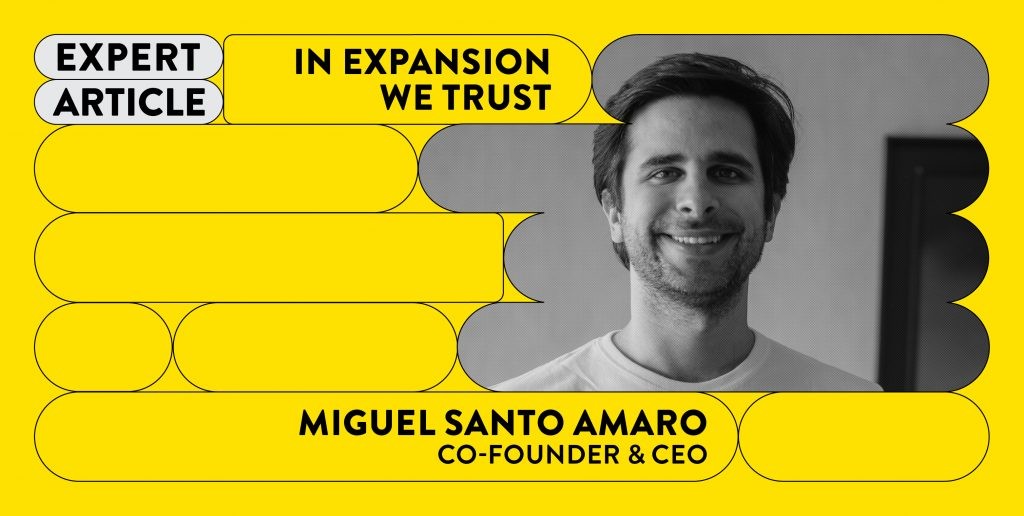 In expansion we trust
Why should your startup expand globally?
Because if it does, you – we – will expand too.
Written by Miguel Santo Amaro, co-founder and CEO at Coverflex
Two years later and it's still hard to look back on all the details. It all started in January 2021. The path started earlier, of course, but the days when our product was finally presented to the first customers had the most special flavour. It is from this feedback that all processes are accelerated: corrections, advances and retreats, improvements and speed.
Portugal was the perfect test market. But the world is global, and as new ways of working grow and expand, the country becomes part of a much larger world. At the same time, the numbers of a global market make the clearing sector a potential giant. And at the same time, people are companies' most important asset.
Companies spend billions on recruiting, paying, managing, and trying to retain talent, as people are the lifeblood of a company. In fact, "labour costs account for more than 60% of corporate expenses and small companies need to lift employee compensation but do not seem to have pricing power to offset related higher expenses". The booming "employee benefits & well-being" market is now worth €200 billion, with Europe representing more than 40%. But with employee benefits engagement sitting at less than 20%, companies are wasting billions of euros on unused, one-size-fits-all packages.
Since its launch in 2021, Coverflex has been implemented in more than 3,600 companies. Our dedication to solving the unique pain points of customers like Santander, Natixis, Remote, OysterHR, Bolt, Emma, Rows, Revolut and Smartex has led to +400% growth year-on-year. Currently, at 70,000 active users, who use Coverflex more than 8 times on average per month, the company has processed more than €80 million to their customers' employees' wallets. Supporting these operations and growth, Coverflex now has close to 100 employees across Europe and LatAm.
In the current macro environment, our latest Series A round validates our ambitious vision, product-market fit in Portugal and a market opportunity in Europe, especially in Italy – Edenred's most profitable market in the world despite having a strong pushback from both merchants and users recently. This round confirms that our focus on adapting human resources processes to the current demand for a more personalised compensation experience is more than relevant today.
Coverflex is improving compensation for everyone by making it easier to award, optimise, manage and spend. We want to conquer all kinds of companies, regardless of their budget or size, to give them a simple experience managing compensation and their people the possibility of improving their quality of life. That's our dream.
If you've worked at a startup before, you will adapt quickly; if not, buckle up, because you are in for one hell of a ride.
startup
entrepreneurship
internationalization
coverflex