Summer off? – not in the Startup World
Startups
Summer off? – not in the Startup World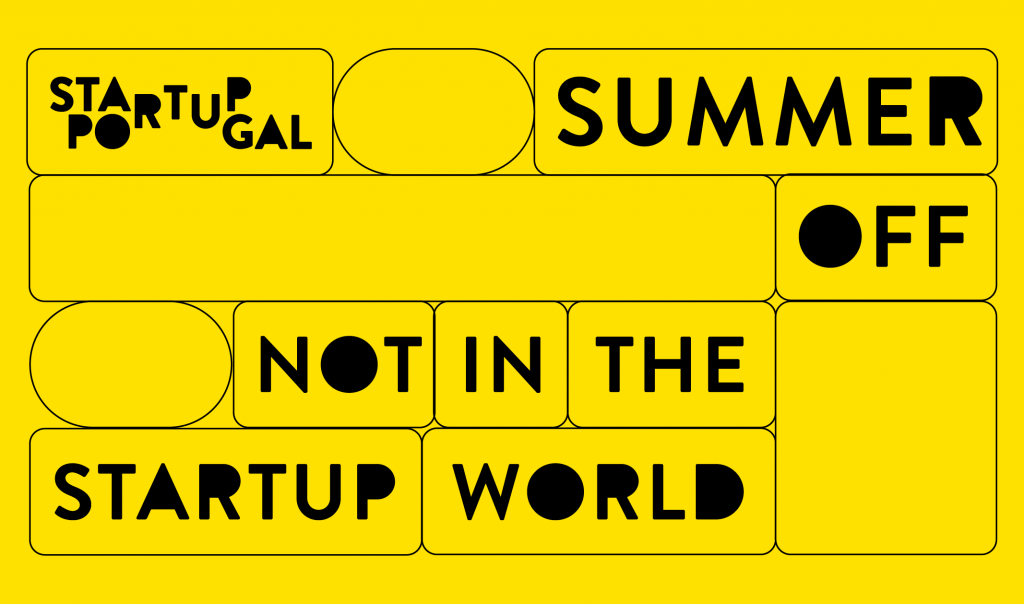 Everyone is rushing to the beach, but in the Startup World every free time it really is grind time. To help you have more spare time, still enjoy summer and get some Vitamin D, we have put together a list of opportunities for you to grasp and foster your startup.
Road 2 Web Summit 2023

Deadline: September 20th
Application link: https://form.typeform.com/to/EuNhIQA0?typeform-source=www.google.com
Website: https://startupportugal.com/
👉 Road 2 Web Summit is a joint initiative by Startup Portugal and Web Summit to select the best young startups to represent Portugal at the biggest tech event in the world, Web Summit, due to happen in Lisbon in November.
To support this participation, and in addition to an immediate 50% discount on the value of Web Summit's ALPHA program for startups, the programme also provides intensive preparation in a bootcamp that includes learnings on:
– How to pitch
– How to approach investors
– How the event will work
– How to navigate the app.
For the 2023 edition, a total of 125 startups will be selected, including 25 startups with projects focused on impact and social inclusion or founded by underrepresented ethnicities and other social minorities (The selection process for this special cohort will be conducted in collaboration with specific partners operating in these fields).
In addition to the benefits listed above, the Road 2 Web Summit startups will also have the chance to win three financial prizes in the following categories:
– Most promising startup: € 15.000,0
– Startup with the best performance in the bootcamp and conference: € 5.000,00
– Startup with the highest contribution to impact and social inclusion: € 5.000,00
The application period ends on September 20th. Apply now!
BI Award for Innovation in Healthcare 2023
Deadline: August 12th
Application link: https://biaward2023.pt/candidate-se/
Website: https://biaward2023.pt/
👉 BI Award for Innovation in Healthcare 2023, is a Boehringer Ingelheim initiative, with the institutional support of the Portuguese Medical Association.
Until August 12th, we challenge interested parties to submit projects under the theme "Sustainability for a common future", which aim to optimize the different organic and functional areas of the National Health Service (SNS).
Nova Startup Club Pro Bono Consulting Project
Deadline: August 15th
Application link: https://sites.google.com/view/nova-startup-club/join-us-scouting?utm_source=startupportugal&utm_medium=act
👉 The Nova Startup Club is a student-run organization at Nova SBE that brings together driven students with a passion for entrepreneurship that are eager to work in a startup environment themselves. Within our Acceleration Department, we conduct pro bono consulting projects with startups at all stages for a duration of one semester to solve a specific challenge of theirs. This collaboration allows members to gain exposure to promising startups that shape today's future. The consulting team consists of 3-4 student consultants and one project lead, diligently selected, and allocated to projects according to diverse backgrounds and experiences.
What?  
Pro Bono Consulting Project with the Startup Club of NOVA SBE
Only for Lisbon or Portugal based Startups
Duration: 8-10 weeks
What to expect? 
Motivated bachelor and master students with diverse experiences from a renowned international business school
Added value to your business through external, multidisciplinary perspectives
Connecting with promising talents who are currently enrolled in the areas of Finance, Management, Business Analytics, Entrepreneurship and Economics
What we expect? 
Close collaboration with the students as their main point of contact
Granting students the opportunity to gain insights into a startup's daily business
Clear scope of challenge and understanding of exam seasons
LG Electronics Open Challenge – Zero Labor Home – is the next generation home
Deadline: August 20th
Application link: https://a747woiw0ho.typeform.com/to/SU1jhlUY?typeform-source=www.lgfuturehome.com
Website: https://www.lgfuturehome.com/challenge
👉 The challenge is related to the Zero Labor Home concept. We are looking for startups that reduce manual work at home, and increase people's quality of life in 5 areas:
Customized Home Appliances
Situational Adaptive Products
HaaS & Subscription Models
Energy Efficiency & Sustainability
Smart + Caring Service
Details about each point are present on the website.
The winners will have access to become customers of LG Electronics and develop their projects with global departments (Germany, South Korea, India, United States of America, etc).
The challenge is open until August 20th.
Santander X Training | Launch 2023.2
Deadline: August 20
Application link: https://app.santanderx.com/calls/santander-x-training-launch-20232
Website: https://www.santanderx.com/en/index.html
The Santander X Launch 2023.2 program, launched by Santander in partnership with Babson College, is a free, 12-week high-impact online training course structured in two phases, which allows selected startups to prepare their Go2Market and increase their chances of success. The course runs from September 4 to November 24, 2023 and will cover key principles in defining a strategy and its implementation. These principles include issues such as:
– Designing and conducting effective experiments for planning and implementation
– Collect and analyze data related to product conceptualization, sales and marketing
– Building a "brand story" to engage customers, recruit stakeholders and raise funds
Several networking sessions will also be offered, providing an unique opportunity to connect with other participants, share knowledge and build an international networking network.
Santander X Training | Explorer 2023.2
Deadline: September 1
Application link: https://bit.ly/santanderexplorer2a2023
Website: https://www.santanderx.com/en/index.html 
The Explorer program is the way to network with other entrepreneurs and turn a business idea into a sustainable business, as well as a way to contribute and participate in solving global problems focused on the UN 2030 Sustainable Development Goals.
During 12 weeks, participants will be able to develop their entrepreneurial potential, validating their business ideas, experiencing entrepreneurship as a professional option and networking with a community of people in the entrepreneurship ecosystem.
Participants will be asked to present an idea or project with potential in the pre-incubation phase and which do not have a legally constituted/incorporated company associated with the project presented.
The Explorer program, which will run from September 25 to December 17, has a blended or 100% online format, depending on the geography, and has a zero cost, since it is fully funded by Santander.
Domestic & Home Care European Forum – tart-up pitching session
Deadline: September 7th
Application link: https://docs.google.com/forms/d/e/1FAIpQLSeDLgLOjhTc2jXiNXHrDUy3FkEdN4IhZZsUrmL9mPaHsI3mxA/viewform
Website: https://www.domestic-home-care-forum.eu/
👉 2nd edition of the Domestic & Home Care European Forum to be held on November 28-29 in Paris. Jointly organized by EFSI and the French tradeshow for Domestic and Personal services, the event is an exclusive B2B event gathering entrepreneurs and senior managers from all over Europe.
This year, the event program has been enriched by a startup pitching session that will be preceded by a discussion during which investors will share their views on the challenges and opportunities for the sector. Therefore, we have open a call for applications a few weeks ago which will be closed on September 7 at midnight (CET).
Protechting –  Open Innovation Program
Deadline: September 8th
Application link: https://www.protechting.pt/applications-2023
Website: https://www.protechting.pt/
👉 Boost your startup at Protechting 6.0 in 2023! Partner with Fidelidade, Portugal's leading insurance firm, Fosun, and Hospital da Luz, top hospital chain, for unparalleled support and tech insights.
Join us in our global quest for sustainable, collaborative solutions in Healthtech and Insurtech.
Colmeia 2023 – social innovation and entrepreneurship program powered by Galp and the Municipality of Matosinhos
Deadline: September 12
Application link:
If you are an entrepreneur apply here: https://incolmeia.com/incomunidade/
If you are a startup apply here: https://incolmeia.com/instartup/
Website: https://incolmeia.com/
Where nature inspires innovation. If you are an entrepreneur or an ambitious startup, Colmeia offers an inclusive space to develop your solution. Colmeia is more than just an innovation program; it is a dynamic community that brings together visionaries, public service bodies, local businesses, and passionate startups committed to the energy transition.
Rocket Booster – Acceleration Program Designed for startups in the tourism sector
Deadline: September 17
Application link: https://airtable.com/shrxG0LIR3HtCXSO4
Website: https://rocket-booster.com/
Introducing our new acceleration program: Rocket Booster! This program was specially developed to boost the growth and innovation of startups in the tourism industry in Portugal. Powered by StartUP23 and Triggr Ventures, promoted by Universidade de Aveiro Incubator and supported by Turismo de Portugal.
What we have for you:
🚀 Acceleration and Mentorship Program
📚 10 workshops and 5 masterclasses
🎉 Demoday on December 15th
💰 Financial prizes for the 3 best startups (5K€ in total)
🌟 Selection of 3 startups for the Investment Readiness program
💵 Possibility to receive investment at the end of the program
Stay tuned to our social media, because we will soon release more details 👀
Are you ready for what's coming? 💫💡
TrustChain
Deadline: September 20th, 17:00 [Brussels time]
Application link: https://trustchain.ngi.eu/apply/
Website: https://trustchain.ngi.eu/
👉 TrustChain, a project funded by the European Commission, is looking for developers, innovators, researchers, SMEs and entrepreneurs working on different Next Generation Internet relevant topics and applications domains at the intersection between the technical field, the social sciences and humanities, as well as any others including economics, environment, art design, which can contribute to NGI TrustChain relevant vision.
Open Call #2 – User Privacy and Data Governance – with €1.989m for applications focusing on trustworthy online platforms that preserve user's data privacy and provide strong data governance frameworks.
Selected participants receive:
– Grants up to €117K (equity-free)
– Free access to mentoring & coaching
– Visibility & promotion
Applications are open by 20 September, 17:00 [Brussels time].
Impact Journey – Casa do Impacto
Deadline: September 24th
Application link: https://forms.office.com/Pages/ResponsePage.aspx?id=ry_9sDY4yE-hvQQWypabvcQ1pIzqNB9Kl0xFZre_S61UNlhJS1FZWDVaSEFMUUpQMTJBTExUSDk1VC4u
Website: https://casadoimpacto.scml.pt/en/open-call/acceleration/impact-journey/
👉 A program that brings young people closer to opportunities in the impact ecosystem, understanding the entrepreneurial process, promoting innovation, and developing solutions linked to the United Nations Sustainable Development Goals.
Impact Journey is an initiative designed by Casa do Impacto, developed in co-creation with the Amélia de Mello Foundation, with the involvement of the José de Mello Group and Sovena Group companies. The program will focus on solutions that create and adapt products and services in four areas: Agroindustry, Water, Education, and Prevention & Lifestyles. This program is for projects in the ideation and testing phase, or startups (launched over a maximum period of two years), composed of teams of 2 to 3 university students or young adults aged between 18 and 30, Portuguese or foreigners who wish to implement the project in Portuguese territory.
Santander X Global Challenge | Cyberprotect the future
Deadline: September 28
Application link: https://bit.ly/cyberprotectthefuture
Website: https://www.santanderx.com/en/sites/santander-x-global-challenge-cyberprotect-the-future.html
👉 Preventing cyber-attacks, protecting vulnerable information and critical infrastructures is key to ensuring our trust online. That is why Santander, together with the Oxentia Foundation, launches the Santander X Global Challenge | Cyberprotect the Future, a challenge aimed at the most innovative startups and scaleups in the field of Cybersecurity, with the aim of supporting and promoting the growth of the entrepreneurial ecosystem in the Cybersecurity space.
The six winning projects will receive €120,000 in prizes: €30,000 for the three best startups (€10,000 each) and €90,000 for the three best scaleups (€30,000 each). The winners will join the Santander X 100 community, the global entrepreneurial community where the best Santander X projects are connected to the resources they need to grow.
In addition, they will also have the opportunity to present their project to Forgepoint Capital, and to Banco Santander's cybersecurity and Fintech Station teams, competing for the opportunity to carry out a pilot test.
Are you familiar with other challenges, programs and calls happening this summer time? Share it!
Send us an email to contact@startupportugal.com. 
startup
networking
technology
training
Web Summit
innovation
digital
internationalization