Up to 150 thousand euros for Incubators and Accelerators
Startups
Up to 150 thousand euros for Incubators and Accelerators
In January 2023, we announced the launch of the Vouchers for Incubators and Accelerators, with available funding of up to 150 thousand euros to invest in the development of human and digital resources of these entities that support Portuguese startups. Did you know that, as of today, the application form…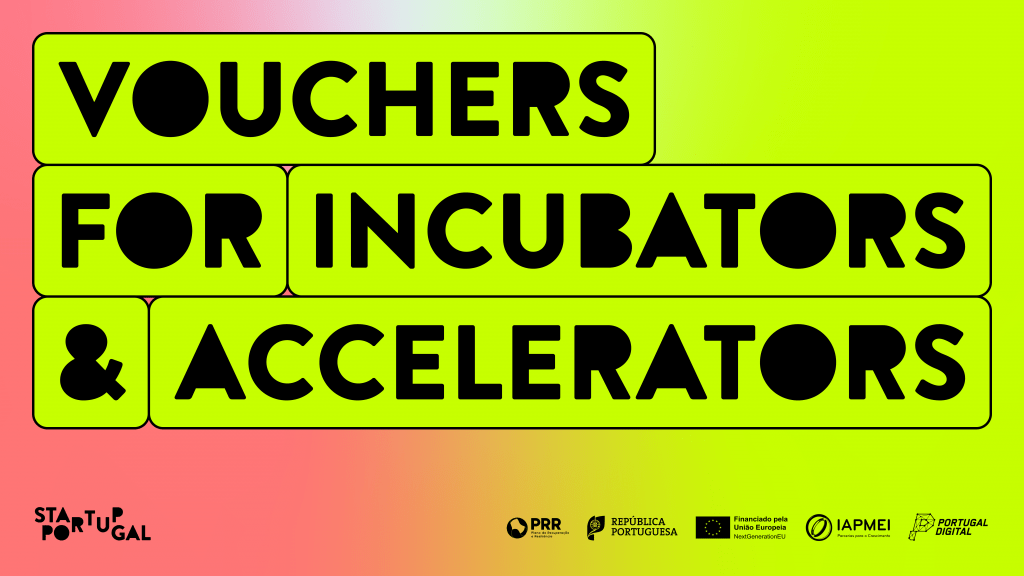 In January 2023, we announced the launch of the Vouchers for Incubators and Accelerators, with available funding of up to 150 thousand euros to invest in the development of human and digital resources of these entities that support Portuguese startups. Did you know that, as of today, the application form is already available? Discover everything here.
What are vouchers for incubators and accelerators?
These Vouchers include an allocation of 20 million euros, and seek to create conditions for incubators and accelerators to invest in their technological development and so that they can have at their disposal human resources that are more up-to-date in their knowledge and skills, so that they can provide their startups with an increasingly specialized support, boosting their growth inside and outside borders.
Who can apply?
Incubators or accelerators already existing or to be created, aiming to develop incubation and/or acceleration services in the areas of entrepreneurship and innovation.

What values ​​can incubators and accelerators apply for?
Between 30 thousand and 150 thousand euros per entity.

From when can you apply?
The application form is available from February 13th, here.
I have some questions… What should I do?
Register for free in the webinar that we are promoting on the 20th of February, at 3 pm (Lisbon time/the session will be held in Portuguese). If we don't answer your question in the webinar, or if you have even more questions, don't worry because it's completely natural 🙂 just send us an email to vales.incubadoras.prr@startupportugal.com.
Read below what our executive director, António Dias Martins, has to say about the Vouchers for Incubators and Accelerators.
"Incubators are a fundamental arm of our ecosystem, supporting and closely monitoring startups, establishing relationships with investors, academia, technology centers and local, national and international business fabric. With this measure, we seek to create conditions for incubators to strengthen their capacity and their human and digital resources aiming for a more inclusive and sustainable growth. It is very important to support these organizations in obtaining new resources and conditions to better support the growth of our startups".
Do you agree? Do you have other ideas on how Startup Portugal can increase support for these key entities in our entrepreneurial ecosystem? Talk to us through our social networks. We are always ready for a chat!
Find out here all the details of this mechanism, namely the eligible expenses and the selection criteria. Don't let this opportunity slip away, apply here!
Background of this measure:
The economic contraction caused by the COVID19 pandemic crisis led the European Union to develop a public investment program, called Next Generation EU, embodied in the Recovery and Resilience Plan (PRR), which comprises around 13.9 billion euros of non-refundable investment for Portugal, as well as €2.3 billion in loans.
The PRR defines several measures that focus on the dimensions of Resilience, Climate Transition and Digital Transformation. In its Component 16, within which we find Startup Portugal as manager of the «Entrepreneurship» measure, and integrated in the Digital Transition dimension, it seeks to create conditions for intelligent, inclusive and sustainable growth, assuming efficient support to the entrepreneurship ecosystem.
This is a measure funded by PRR/Next Generation EU.