Meet us at Web Summit 2023!
Startup Portugal
Meet us at Web Summit 2023!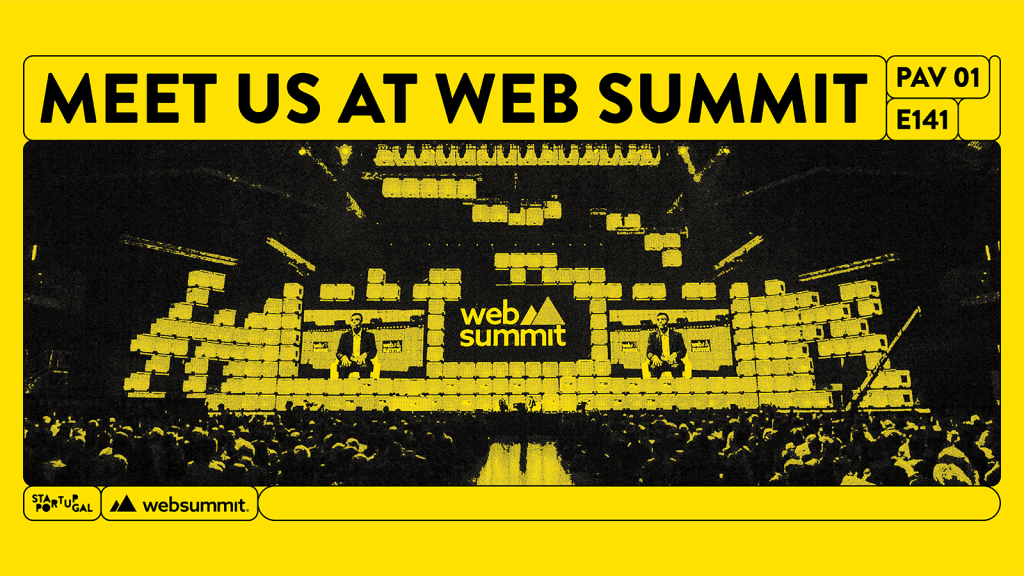 Get ready for Web Summit 2023!
If you're eager to stay updated on all the latest news, discover incentive programs, and connect with the vibrant Portuguese entrepreneurial community, make sure to visit us at Pavilion 1, Stand E141, from November 13th to 16th.
As last year, we've teamed up with Lisboa Unicorn Capital to present the most extensive Portugal stand ever at Web Summit. Join us at our stand and meet our valued partners, including ANI – Agência Nacional de Inovação, Banco Português de Fomento, IAPMEI, AICEP, NEST, Portugal Ventures, and Turismo de Portugal.
Four Pillars
Our stand will be organized around 4 strategic pillars, which group together the vast majority of questions that conference participants seek to have answered: Funding, Innovating, Landing and Scaling.
In each of the 4 corners of our stand, according to these 4 pillars, you will find the programs and initiatives promoted by the entities that make up the Portuguese entrepreneurial ecosystem, both in their national expression and in their municipal dimension.
Don't miss out on the chance to immerse yourself in the Portuguese ecosystem by participating in the various events held at our stand!
📷 Make sure to follow us on Instagram and X (former Twitter) for our live coverage of the event and to keep up with all the excitement!
WEB SUMMIT 2023 PORTUGAL STAND AGENDA
November 14th // Tuesday
10:00 AM || Official Opening
10:30 AM || PITCH SESSION | #Road2WebSummit
11:00 AM || From Portugal to the World – How AICEP and Unicorn Factory Lisboa can help you scale
12:00 PM || The State and the Future of Incubation and Innovation Communities
12:30 PM || Afropreneurs in Portugal: the way forward by Djassi Africa
01:00 PM || Meet Startup Lisboa Early Stage Incubation Program
02:00 PM || Meet the Unicorn Factory Lisboa Scaling Up Program
02:30 PM || An EU approach to startups and scaleups
03:00 PM || A Year of Unicorn Factory Lisboa
03:30 PM || Casa do Impacto: 5 years of impact and beyond
04:00 PM || PITCH SESSION | From knowledge sparks to market impact by ANI and Portugal Ventures
04:30 PM || Decoding the new Startup Law in Portugal
November 15th // Wednesday
10:00 AM || PITCH SESSION | #Road2WebSummit
10:30 AM || Envisioning a Scale Up Country
11:00 AM || Lisboa: City of Innovation – AI Ecosystem
12:00 PM || Investors Talks: Navigating the Startup Funding Journey with ANI and BPF
12:30 PM || SIM Pre-Launch & SIM Circuit: Accelerating Investment in Portugal
01:00 PM || Lisboa: City of Innovation – Immersive Experiences Ecosystem
02:00 PM || Accelerating Talent: Visa and Re-skilling programs in Portugal with IAPMEI and IEFP
03:30 PM || Public Investment Opportunities for Startups
04:00 PM || Lisboa: City of Innovation – CleanTech Ecosystem
04:30 PM || Navigating Deep Tech Opportunities
November 16th // Thursday
10:00 AM || PITCH SESSION | #Road2WebSummit
10:30 AM || Global Hypergrowth: accelerating international growth
11:00 AM || Green is the New Black – Sustainability, Skills, and Success in Today's Industries
12:00 PM || A snapshot of the Portuguese Ecosystem by Startup Portugal, IDC, and Informa D&B
12:30 PM || Developing Entrepreneurship Skills in Higher Education
01:00 PM || Lisboa: City of Innovation – Web3 Ecosystem
02:30 PM || Diving into the Blue Economy Ecosystem
03:00 PM || Startup the Future by Galp Upcoming Energies Pitch + Fostering an Innovation Ecosystem for Sustainability: how can different sectors co-create sustainable business models?
04:00 PM || Water2Plug: Tagus River, a source of Innovation and Blue Energy
04:30 PM || Empowering Your Tourism Startup through NEST programs

startup
startup portugal
Portuguese ecosystem
Web Summit